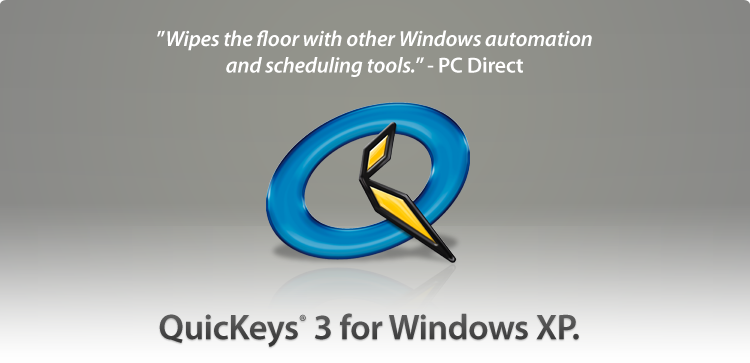 QuicKeys 3 for Windows XP offers flexible, yet powerful tools that redefine the way you use your PC. It takes the daily tasks that would normally require you five… six… twenty or more steps and turns them into simple one step shortcuts.
Automate anything from launching programs to selecting menus to typing text to controlling windows. Whatever you do, however many steps, QuicKeys saves you time and increases your productivity.
How does it work?
QuicKeys performs shortcuts that automate the computer tasks you do each day. Shortcuts can be created manually, using the QuicKeys Editor or automatically using the recording feature. You can scope your shortcut to play within a specific application or all applications.
Trigger your shortcuts with a simple hot key, toolbar button, custom menu selection or timer and you'll be working smarter, faster, better.
What can QuicKeys do for me?
Once you simplify your daily computer tasks with QuicKeys, the benefits are obvious. With QuicKeys installed on your PC, those routine, repetitive, time-consuming tasks you do all day long can be automated with a single keystroke or mouse-click.
Tasks that took minutes take seconds. Jobs that took 15 steps, take one. Add it all up. At the end of the day you'll have saved a lot of precious time… so you can spend more time on the really important things in life.